Vietnam seafood aims to bring export turnover to 10 billion USD in 2019, early completion of targets is set by 2020.
This is the information given at the Conference on deploying seafood export plan in 2019 organized by Vietnam Association of Seafood Exporters and Producers (VASEP) in Ho Chi Minh City. Ho Chi Minh, February 16 afternoon.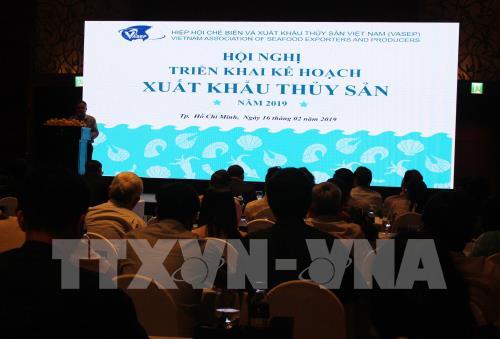 Conference on implementing seafood export plan in 2019. Photo: Xuan Anh – TTXVN
Mr. Ngo Van Ich, Chairman of Vasep said, 2018 witnessed many different ups and downs in key export seafood products of Vietnam. While pangasius export turnover has grown significantly, reaching nearly 2.3 billion USD, up to 26%, shrimp export only reached 3.6 billion USD, down by 8% compared to 2017.
2018 is also the year when seafood exploitation and processing industry faces many obstacles in increasing export value as a result of IUU yellow card from Europe.
However, in 2019, the fisheries sector is expected to have many opportunities to regain growth momentum. Specifically, pangasius is gradually asserting its position in many big markets, can maintain impressive export turnover from 2018.
Exported shrimp products are also expected to get better thanks to the US anti-dumping tax rate in the 12th administrative review period (POR12) lower than POR11. Besides, since the beginning of 2019, the Comprehensive and Progressive Trans-Pacific Partnership Agreement (CPTPP) has officially entered into force with Vietnam.
Accordingly, almost all of Vietnam's exports, including seafood to CPTPP member countries, will be completely eliminated. In addition, Vietnam – EU Free Trade Agreement (EVFTA) is also being actively promoted by members to come into practice soon.
With the goal of bringing export turnover of the whole fishery sector to USD 10 billion in 2019, VASEP has analyzed and determined targets for each specific item. In which, export of 4.2 billion USD is the mission of shrimp industry; The pangasius industry strengthened the export level to USD 2.3 billion and with efforts to remove the IUU yellow card, Vietnam's seafood industry aims to export USD 3.5 billion in 2019.
Mr. Truong Dinh Hoe, General Secretary of Vasep said that although there are many positive signals, the Vietnamese seafood industry is also facing many challenges in terms of raw materials, competitiveness and market barriers …
Accordingly, the proactive source of raw materials is considered a great strength for businesses in general, especially seafood processing and exporting enterprises. However, the maintenance of raw materials of Vietnamese enterprises is not really good due to the impacts of climate change, saline intrusion, and diseases that have not been well controlled, leading to a shortage of materials.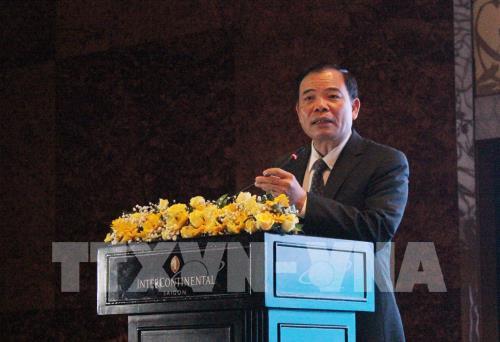 Mr. Nguyen Xuan Cuong, Minister of Agriculture and Rural Development Photo: Xuan Anh – TTXVN
Mr. Truong Dinh Hoe analyzed, most Vietnamese enterprises are currently unable to control synchronously the process of producing materials. In addition, Vietnam still has to import a lot of animal feed production materials which have affected the price, making Vietnam seafood less competitive and dependent on the rise and fall of the raw material production market. eat.
Therefore, in order to achieve the goal of 10 billion USD, the fisheries sector needs to develop a reasonable farming development strategy, improve processing technology and promote exports, with a focus on resolving the problem. Antimicrobial substances in seafood products and common diseases in shrimp today to strengthen consumer confidence in Vietnamese shrimp products and enhance shrimp exports to fastidious markets like Japan, EU, Australia …
Mr. Nguyen Xuan Cuong, Minister of Agriculture and Rural Development affirmed that the target of 10 billion USD proposed by the fisheries sector is a very high target, but there is absolutely a basis for implementation. Specifically, shrimp products have positive signals, pangasius is being welcomed by the market, and the seafood exploitation industry is gradually going towards sustainable development.
According to Mr. Nguyen Xuan Cuong, in order to accomplish this goal, it is necessary to synchronize the whole value chain, from the exploitation and production of raw materials to processing and market organization. In particular, the exploitation and production of raw materials must ensure a clean process, complying with the standards of input quality.
Processing must innovate technological processes, management to reduce costs and extend the value chain. For market organization, in addition to maintaining traditional markets, businesses and associations need to expand exports to new potential markets.
At the same time, we must focus on exploiting the domestic market effectively because this is a huge market with nearly 100 million people and 15 million international tourists each year.
Moreover, businesses need to strengthen linkages along commodity lines and link with farmers and fishermen to solve problems of quantity and quality of raw materials to meet sustainable development goals. sustainability of the fisheries sector in particular and Vietnam's agriculture in general./.
Xuân Anh/TTXVN